Sheehan's of Chatham Street
At the corner of Chatham Street and Balfe Street stands Sheehan's pub, approaching its 85th birthday in the safe hands of the third generation of the Sheehan family. If you wander in there's a decent chance you might meet Paul Sheehan pulling pints downstairs, or decanting one of their fine selection of whiskeys upstairs in their recently developed whiskey bar.
Sheehan's of Chatham Street
The story of the Sheehan family's involvement stretches back to Paul's grandfather, Jeremiah Sheehan who had come to Dublin from Kerry and ended up joined the Dublin Metropolitan Police (DMP) in 1910. He became part of the DMP's famous mounted unit and was even on duty as a bodyguard when King George V visited the city in 1911. After leaving the DMP Jeremiah purchased the pub and was later helped by a lady luck when a win at the sweeps helped him improve the business.
There has been a licenced premises on the site of Sheehan's since at least 1840's and the building was refurbished and relaunched by John Coghlan as a "Tea, wine and spirit establishment" in 1878. It changed hands on numerous occasions during the late 19th and early 20th centuries. By 1915 the pub was known as "The New Light" and was run by a Thomas Gavigan from Westmeath, the son of Patrick Gavigan a prominent member of the United Irishmen and the Land League.
It came into the possession of Jeremiah Sheehan in 1933, with the family moving into the rooms on the first floor above the bar. They had a lucky escape from a fire in the premises in 1940 and despite the blaze exploding some of the more potent concoctions behind the bar the damage was relatively minor. Even with such minor setbacks Sheehan's pub continued to grow a strong reputation as one of the city's finest hostelries. So much so that be the time that Jeremiah passed away in 1963 the Irish Times was able to describe him as one of the city's "best known publicans".
Jeremiah's two sons took over the running of the pub and remained living above the pub until the upper floor was redeveloped in the 1980's. Paul took over the day to day running from his father Dermot about ten years ago, just in time for the pub's 75th anniversary as "Sheehan's".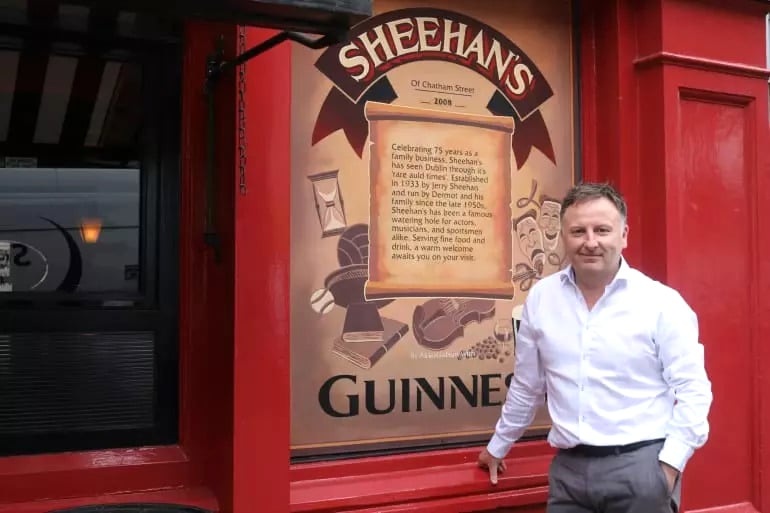 Monday
12noon - 12midnight
Tuesday
12noon - 12midnight
Wednesday
12noon - 12midnight
Thursday
12noon - 12midnight